What are the thoughts of a typical 24 year-old single woman? Job, clothes, friends, music, concerts, car, apartment…foster care? Although not at all typical, foster care was on the mind of Jadalynn Cirillo. Helping children in the foster care system was more or less in her DNA. Her mom and stepdad had been foster parents to five children, all of whom they ultimately adopted. So, in her heart it was a given that one day she too would be a foster parent. She just didn't expect it to happen so soon.
The next series of events was a blur to Jadalynn. Her mom was attending a foster parent support group where a conversation started with one of her friends. The friend told the story of two brothers who both lived in the same foster home. One brother was being adopted by his foster family. The other, Thomas, was told by his foster family they would not be adopting him. Thomas, who was 9 years-old, already had been in five different foster homes. He was devastated to learn the family who wanted to adopt his brother did not want him.
Jadalynn's mother went into full "we've got to help this child" mode and asked Jadalynn if she would take Thomas in. Even though she had recently finished her schooling and was just starting her career, Jadalynn couldn't say no. After quickly satisfying the basic requirements from the Department of Child Safety (DCS), the next thing she knew, Thomas was on her doorstep.
Fortunately, being organized is second nature to her, so Jadalynn made a list of Thomas' immediate needs and quickly jumped into action. She went online and promptly found Thomas a bed and a dresser. Since Thomas came to Jadalynn with limited, ill-fitting clothing, the two of them set off to the store to buy clothing and other necessities. As other needs came up, she did her best to fulfill them.
In the beginning, Thomas was on medication and had some difficult behaviors. "I learned how to be a parent very fast," said Jadalynn. She soon found that structure, love and patience was the winning combination for Thomas. In addition, Jadalynn, who is a sports enthusiast and coach herself, introduced playing sports into Thomas' daily routine. He now loves playing basketball and baseball.
Going it alone, with emotional support from her family, Jadalynn was paying for Thomas' expenses out of her own pocket. Then she heard about kinship foster care licensure. Getting licensed brings the benefits of receiving specialized training and the guidance and support of a Family Specialist, and ultimately getting increased financial support from the State.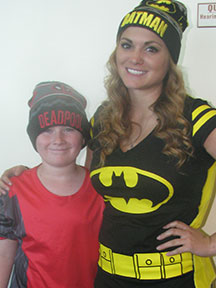 When Jadalynn asked around about how to start the process to get licensed, person after person kept telling her about AASK and its good reputation in helping families. She contacted AASK and attended a Jump Start session, designed for persons like her with a child already placed in their home. After completing Jump Start, she continued training for foster care licensure at AASK and ultimately became licensed as a foster parent.
During this time, she and Thomas were bonding as a family. When the DCS caseworker told Jadalynn they were still looking for an adoptive family for Thomas, she realized he could be removed from her care at any time. That scared her. "I didn't want to picture my life without him," she explained. Her AASK Family Specialist helped her think through the options. Quickly the choice became obvious to Jadalynn…she would adopt Thomas! With continued guidance from her Family Specialist, Jadalynn began the process of getting certified to adopt him. She was on her way of becoming Thomas' forever family.
On National Adoption Day, November 21, 2015, Thomas became Thomas Cirillo, Jadalynn's son forever. Thomas loves all things superhero and Jadalynn wanted it to be his special day. So on that life changing day, they dressed like the superheroes they are to each other. It's difficult to tell who had the bigger smile.
As they knew it would, both Jadalynn's and Thomas' lives have been profoundly changed. Jadalynn says she is more selfless, and she "puts his needs before mine." Her friends now include other moms with children. She's learned how to balance her work life and Thomas' homework and school activities, and still make time for each of them to participate in the sports that they enjoy. "It's a huge responsibility, but so worth it. One stable person can change a child's life." she said.
Thomas is now off all of his medications. He's made friends at school and is currently on the Honor Roll. Thomas and Jadalynn enjoy participating in activities together, like a "fun run" they recently completed. He's happy that a biological uncle and aunt are back in his life. And although he still has high school ahead of him, he is starting to dream of a positive future. Lately he is thinking about a career in the military, possibly as a Navy Seal.
Life can be unpredictable and, like Jadalynn realized, sometimes a life-changing relationship finds you instead of the other way around. She responded to a sudden need, watched her relationship with Thomas blossom over time, and has experienced rewards she never imagined. She couldn't be happier with the choices she made and that Thomas is now part of her life forever.