Meet Adah!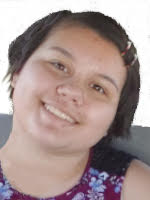 Meet Adah! This charismatic fourteen year old loves to help people and has dreams to be a nurse, when she grows up. She would be thrilled to find a family with pets, as she really enjoys playing and caring for animals. Prior to her dream to become a nurse, she had wanted to be a veterinarian. Adah looks forward to going on outings to her favorite restaurants like Panda Express and McDonalds and she enjoys arts and crafts activities.
Adah enjoys school for the learning aspect, especially when it comes to her favorite subject—Art!
Adah would like to have a mother and father and other siblings in the home. Adah is open to moving out of state, to find her forever family, her one request is, "that my family likes to go to fun places and likes to celebrate holidays and birthdays." Adah will do best in a family that is patient, consistent, and unconditionally committed. Fair structure in addition to a nurturing and affectionate environment are a necessity in enabling Adah to finally find her forever family.
For more information about Adah, please contact Brianna Rossi at (602) 930-4601 or via e-mail at brossi@aask-az.org.