Meet Elijah!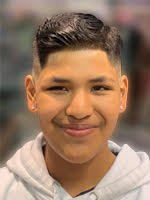 The interests of 14-year-old Elijah have a common link – imagination. "I like to draw," he says. "Sometimes, I like to draw people. Sometimes, I draw trees or mountains or cactus."

Reading also allows him to tap into his imagination, as do Legos.

"Elijah is especially creative with Legos," says Nicole Hylton, a Child Specific Recruiter at St. Nicholas Adoption Center. "When he puts Lego pieces together, he has an innate sense of where everything fits."
A visit to Art for Fun! Studio and Gallery in Phoenix stimulated Elijah's imagination and love for learning. Studio owner Barbara Becker urged Elijah to experiment.

"Let's just mix colors and see what they make," she says, as Elijah blends red and yellow to make orange.

Elijah enjoys learning in school and is doing well in many subjects. His focus on reading has paid off in significant improvements.
The ideal forever family for Elijah will a two-parent home offering stability, structure, patience and love. He will need soft-spoken and attentive parents to help him heal from trying early years.

Elijah says he would like to stay connected to his Hispanic roots, perhaps by joining a family with similar heritage so that he can learn more about his culture.

"Elijah would bring so much joy to a family," says Hylton. "His spontaneity, sense of humor and smile will make your heart melt. He's a really good kid."
For more information about Elijah, please contact AASK at (602) 930-4900 or via e-mail at info@aask-az.org.