Meet Elijah!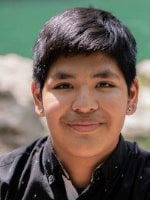 Meet Elijah, a kind, creative and hard working 16 year old boy. He is a thoughtful young man who has yet to meet a school arts and crafts project he does not love, he really excels at drawing and painting and has his whole room beautifully decorated with his art work. He is affectionate and loves being able to be helpful either with running errands or chores around the house.
He loves getting his hair cut, and he gets his wish because it grows fast! He loves spaghetti and meatballs and getting to go to pick out a treat at the convenience store as a reward for positive behavior.
A family for Elijah would need to have full commitment in weathering the tough days with him, knowing that the good days far number the days he might need a little help. Elijah wants and needs connections in his life. It is of the greatest importance for Elijah to have an forever family who will love and cherish him, and who will make sure that he has regular opportunities to feel connected to his Native American heritage. Elijah needs a family who is patient and willing to help him learn and develop trust.
For more information about Elijah, please contact AASK at (602) 930-4900 or via e-mail at info@aask-az.org.