Meet Shawn!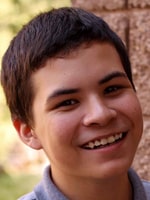 Meet Shawn, a unique 16-year-old who has a soft touch and a gentle spirit.

Shawn gives the phrase, "childlike wonder" meaning. He's enamored by all of the life happening before his eyes, seemingly having every intention to learn from it and grow with it. But he needs support. He deserves a chance at life.

"Shawn is a very bright boy. While he likes his alone time, when he gets comfortable with you, he will become interactive and possibly even affectionate," explains Nicole Hylton, Shawn's recruiter with Wendy's Wonderful Kids through the Dave Thomas Foundation.
Shawn longs for a forever family who can give him unconditional love and guide and support him as he learns his way through life and grows into adulthood. "An ideal family for Shawn will be patient and excited about helping him grow to his potential. Likewise, he has so much to offer a family; he is such an interesting kid," says Hylton. He needs an all-inclusive family that will allow him to be a part of it and not sitting on the outside looking in, wishing he could hold his new mom's hand.

One of the cutest things about Shawn is that while most kids carry a teddy bear or blanket for security, this little man nestles with his books. In school, he's good at math and reading, according to Hylton. He is making progress in language. He consistently works to grow his skills both at school and at home. His IEP (Individual Education Plan) keeps him on track and allows him to learn in ways that actually help him personally.
He enjoys others and interacts well with kids of all ages; he tends to model older kids behavior. Having a solid role model brother or sister would be an added bonus for Shawn, but it's not necessary.

One important thing to remember with any child who is going through the foster system: You must first establish trust. Once Shawn feels that trust, he will warm up quickly.

When you adopt a child like Shawn, you give that child a better chance to succeed at life. He needs a solid foundation, just like you did when you were a kid. When surrounded by people that believe in Shawn, he will quickly become everything he is capable of being and then some. He can offer a family the simplest joys, and isn't that what life's all about?
For more information about Shawn, please contact AASK at (602) 930-4900 or via e-mail at info@aask-az.org.