Meet Faizon!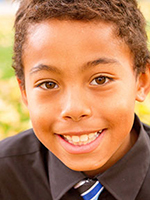 Meet 11-year- old Faizon! This handsome boy is looking for his forever family! Faizon is a builder and a creator and loves to play with Lego's and use his imagination. He also loves to fish and spend time outdoors camping and hiking. Faizon has participated in many activities including baseball, basketball, flag football, guitar lessons, boxing, and martial arts. Faizon can be very helpful and is a very social child.
Faizon is in 5 th grade and is driven to learn new things in any subject. He is a skills master and could become an inventor or an engineer when he grows up! He loves learning how things work, taking things apart, and putting them back together again.
Faizon would thrive in a skilled two-parent home that will be able to provide him with the amount of attention and love that he desires. A strong father figure is necessary. He needs parents who will provide structure and routine from the start. Faizon would do best in a home with no other children, or with children who are older than he is. He needs a family willing to be patient with him who can provide a safe, nurturing home.
For more information about Faizon, please contact Ashleigh Pierce at (602) 930-4465 or via e-mail at apierce@aask-az.org.