Meet Giovanni!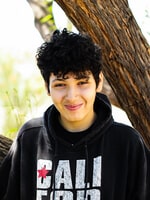 "I like cats because they're pretty chill and they're always soft," says the soft-spoken teen. Giovanni – who goes by the nickname Gio – visited with a clowder of cats at the Arizona Humane Society facility at the Nina Mason Pulliam Campus for Compassion in south Phoenix, thanks to Bretta Nelson. Gio is familiar with the shelter because that's where he went to rescue his pet cat. "Her name is Bella and she is nice," Gio says.
Gio will be a high school junior this coming school year and he enjoys the friendships he has at school more than the academics. Like a lot to teens, he likes video games and super hero movies. And tacos. Gio has an uncanny sense of direction.
"He loves maps and streets, anything to do with geography and directions," says Jen, manager of the group home where Gio lives. Driving with Gio means you don't need any sort of GPS in your car because he knows the best route to get anywhere in the city, Jen says. "Gio would thrive in a home with two parents who can provide routine and structure," says Brianna, a child specific adoption recruiter with Aid to Adoption of Special Kids (AASK). He would get along well with siblings. And cats.
For more information about Giovanni, please contact Brianna Rossi at (602) 930-4601 or via e-mail at brossi@aask-az.org.