Meet Kasumy!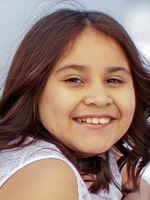 What kid doesn't love ice cream? "My favorite food is ice cream – chocolate," says 10-year- old Kasumy, confirming to everyone that she is, indeed, a pretty regular third-grader. Kasumy loves to be the center of attention, says James Patton, a youth advocate with Christian Family Care. That's not an issue at an Arizona Hair Co. salon in Surprise where the entire staff of stylists dotes on her. Kasumy gets hands-on lessons on how to be a stylist before getting a shampoo and blow dry. While it's too early to make any firm decisions, Kasumy says she might like to be a stylist when she grows up. "She is starting to get into hair and makeup," Patton says.
Meanwhile, Kasumy is working hard to settle in at her latest school. "My favorite thing to do at school is science," she says. After school, Kasumy enjoys playing outside on the swing set and riding a bike. She also likes splashing in the pool. And she loves flowers. "My favorite color is red because I like roses and roses are beautiful," she says.
Kasumy likes cats and hopes to have a pet. "I would like my forever family to have a cat," she says. Patton says Kasumy would do best with parents who have experience with children in foster care. "The ideal forever family for Kasumy would be a two-parent family without children so they could really give her the attention she needs," Patton says.
For more information about Kasumy, please contact AASK at (602) 930-4900 or via e-mail at info@aask-az.org.