Meet Lizeth!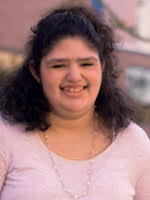 Fifteen year old Lizeth, who goes by "Lizzie", is best known for her infectious smile and larger than life attitude. Lizeth enjoys many activities, such as swimming (although she still needs help in the pool), going shopping and playing board games. Playing outside is one of her favorite things and she actually enjoys yard work!
Soon to be a junior in high school, Lizzie is very social and enjoys interacting with her teachers and classmates.
The best fit family for Lizzie will be a one or two parent home that is able to provide Lizzie with the supervision and dedication that she deserves. Lizzie will do well with siblings and will benefit from having older siblings that she can look to as positive role models. She will need lifelong care, so a family will need to be committed and plan for the future.
For more information about Lizeth, please contact Brianna Rossi at (602) 930-4601 or via e-mail at brossi@aask-az.org.