Meet Shawn!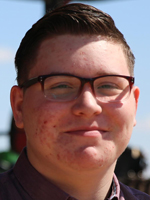 Meet Shawn! This sweet and caring young man that loves to spend his spare time playing on his phone or playing video games. He enjoys Fortnite and Call of Duty. He also enjoys other activities such as reading, spending time with animals, and going out to eat. Shawn particularly enjoys spaghetti, Panda Express, and Sonic. Shawn has been described as kind, funny, helpful, intelligent, determined, caring, polite, and a problem solver.
Shawn is in 10th grade and states that he thinks school is "okay, but I do not enjoy it." Shawn's favorite subject is science because he likes to do the experiments.
Shawn would do best with a single father, but would also do well in a two parent home. Shawn will need a family that is patient, able to set strict boundaries and be consistent with their expectations. Shawn's idea of a family is "having someone to spend time with and have fun with." Shawn would do well with siblings either his age or older. Shawn would also love to have a pet kitten, but also likes dogs. Shawn expressed "I just want a family to be with forever."
For more information about Shawn, please contact us at (602) 930-4466 or via e-mail at csrinquiry@aask-az.org.