Meet Camren!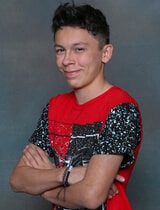 Camren is an active, outgoing, strong-willed boy who loves football, video games, and social media. He describes himself as "fun, athletic, likeable, and popular" and takes pride in his appearance. His favorite foods include ceviche, pepperoni pizza, hamburgers, and ramen. He loves eating out at McDonald's, Burger King and Golden Corral. He enjoys listening to rap and hip hop and his favorite musical artist is NBA Youngboy because he likes his song lyrics. Camren likes watching movies and some of his favorites include Spiderman and Justice League. He enjoys watching and playing football and basketball and his favorite teams are the Carolina Panthers and Golden State Warriors. Camren enjoys spending time shopping at the mall or jumping around at places like Jumpstreet. If he had a lot of money, Camren reports that he would spend it on "useful things like clothes and shoes" and states that he is "not a guy to spend money on dumb stuff."
Camren is in 8th grade. His favorite subjects include Social Studies and Science because Camren likes learning about history and doing fun experiments. Camren reports that he enjoys the social aspects of school and seems to be very outgoing as he reports having a lot of friends. Camren would like to go to college. He states he would like to be a social worker to help kids find families or would like to open his own group home when he grows up.
Camren has a strong desire to be adopted and desperately wishes to be a part of a family. It is assessed that Camren would thrive in a two parent home and he is open to having two dads. He would also do well with a single parent. Camren would do best as an only child, or with older brothers he could look up to. Camren's idea of family is "love." Camren would like an active family who will spend quality time with him and take him out of the house to do things. Camren enjoys pets and will do well with any animals. Camren will need a family willing to support him and provide him with clear and consistent boundaries and expectations.
For more information about Camren, please contact John Hicks at (602) 930-4465 or via e-mail at jhicks@aask-az.org.