Meet Adrian!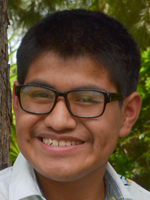 Sixteen year old, Adrian is described as a very sociable, empathetic, friendly and happy young man, who has a very optimistic outlook on life. He loves to share his special moments with people and ask about their days. Adrian is very technologically savvy and is eager to help with any computer issues while also being patient explaining how certain programs work. Outside of technology and developing content for his own personal YouTube channel, Adrian enjoys videogames, bike rides and playing basketball. Adrian would like to be a police man with a "K-9" when he grows up.
Adrian is in the tenth grade and loves school! He especially enjoys his teachers and school staff. Adrian works hard and prides himself on his good grades and academic achievements.
The best family for Adrian is a one or two parent home. Adrian will do well as an only child or having other children in the home. He thrives on attention and likes to be a part of a family setting. Adrian will thrive with unconditional love and support that a family has to offer.
For more information about Adrian, please contact us at (602) 930-4466 or via e-mail at csrinquiry@aask-az.org.