Meet Adrian!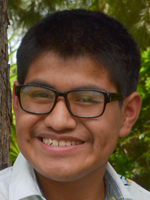 Adrian is a very sociable, funny and happy child, who has a larger than life attitude. When coming home from a long day at school, he will open the door in excitement to tell everyone about how his day was. This young man will make you appreciate all of the little things that life has to offer. He is technologically savvy and will be able to help you and guide you with the most updated software, as well as give you his opinion on what equipment is the top of the line. Adrian would like to be a police man with a "K-9" when he grows up.
Adrian is in the tenth grade.
The best fit family for Adrian would be a one or two parent home that has experience working with the special needs population. Adrian will do fine with other children in the home, as well as pets. He thrives on attention and likes to be a part of a family setting. He is excited to share the details of his day with a family. Adrian will thrive with the unconditional love and support that a family has to offer.
For more information about Adrian, please contact us at (602) 930-4466 or via e-mail at csrinquiry@aask-az.org.