Meet Dylan!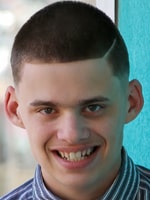 Fifteen year old Dylan loves to go swimming, play football and soccer, and play on his Xbox. He likes to wear his Diamondbacks hat and stated he would like to go to one of their games one day. His favorite food is macaroni and cheese and he loves to go out to eat at Smash Burger. On those hot summer days Dylan would prefer to watch movies and play video games, but when the weather is cooler he likes to be active outside playing sports or swimming. Dylan's favorite television show is "Wolverine" and "The Avengers." Dylan stated "I would like to be The Hulk when I grow up because I know how to make the DNA." Dylan is described as athletic, creative, curious, funny, imaginative, intelligent, and likeable.
Dylan is in the ninth grade and currently has an IEP. When asked why he likes school he reported "I like to be on the honor role." Dylan recently received an award for Academic Excellence! His favorite subject is science and he likes to do all different kinds of experiments.
The best fit family for Dylan would be a two parent home or with a single father. Dylan would do best as an only child, but is open to having older siblings. Dylan reports he would like to have a dog in his forever home, but also reported "I do not like snakes." He needs supportive parents who can provide him with firm and consistent limits and boundaries. Dylan is ready to find his forever home.
For more information about Dylan, please contact Kayla Huner-Waymire at (602) 930-4628 or via e-mail at khuner-waymire@aask-az.org.