Meet Cheyenne!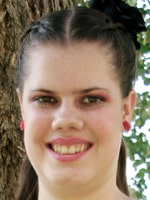 In an age of digital diversions, 17-year-old Cheyenne finds joy in classic pastimes. "I love doing puzzles," says the bubbly teen. "I love doing the 1,000 piece puzzles. I put the straight pieces together first." Once she starts a puzzle, she sticks with it, finishing the picture in a day or two. Cheyenne also loves to play the fast-paced card game UNO.
Cheyenne's love of old-fashioned fun made a round of miniature golf at Castle N Coasters in Phoenix a perfect way to spend an afternoon. "I got a hole-in-one," Cheyenne exclaims.
Cheyenne loves animals and the list of her favorites is a long one: dogs, cats, rabbits, guinea pigs, gerbils – even lizards. "I'm only afraid of bugs," she says with a laugh.. Cheyenne would do best with a forever family that includes a mother, a father and siblings. The parents need to be committed to providing long-term support and advocating for continuing life-skills training. It's also important Cheyenne maintain contact with her grandmother.
For more information about Cheyenne, please contact AASK at (602) 930-4900 or via e-mail at info@aask-az.org.