Meet Tocara!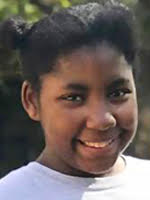 Like a lot of little girls, Tocara dreamed of being a princess when she grew up. But her ambitions shifted as she got older. "I want to build houses for people," the 13-year-old says, adding that she hopes to be an engineer when she is an adult. Tocara is still a fan of royalty, however. In a recent visit to Puppet Pie, a puppet making studio in Phoenix, Tocara got help from owner Stacy Gordon in making a fuzzy, pink princess puppet. "My puppet is a princess because I love princesses," Tocara says.
Tocara likes other artsy activities such as drawing and coloring. She likes to hula hoop and jump rope. She doesn't really enjoy the great outdoors. "I hate hiking because my legs get tired easily," Tocara says with a smile.
Kirsten Eby, an art therapist who works with Tocara, would do best in a forever family with two parents and siblings. No matter the makeup of the family, Tocara would be a great addition, she adds. "She cares a lot about other people."
For more information about Tocara, please contact Info at (602) 930-4900 or via e-mail at info@aask-az.org.