Meet Yahya!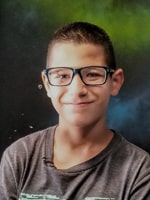 When 12-year-old Yahya does something, he is all in.During a recent visit to Elevate Trampoline Park in Goodyear, the energetic Yahya seems tospend more time in the air than on the ground.Once he starts an activity, he stays focused."He can spend hours working on puzzle or building a Lego structure," says Jen, a child specificadoption recruiter.Yahya is a big fan of Toothless, a Cartoon Network series based on the 2010 film How to TrainYour Dragon."I like to watch Toothless every single day," Yahya says.
But Yahya isn't any sort of coach potato. He loves to ride his bike for hours and would spend all day in the swimming pool, if you let him. He takes pride in how long he can hold his breath underwater. "I can swim underwater from one end of the pool all the way to the other end," Yahya says. When done biking or swimming, Yahya likes to refuel with a long list of spicy foods. "My favorite food is hot wings," Yahya says.
Yahya would do best as an only child in a forever family with two parents, says Jen. "Yahya needs a family that has experience with children who have had trauma in their lives," Jen adds. "Yahya loves having one-on-one adult attention, so a family with a stay-at-home parent would be a great match."
For more information about Yahya, please contact AASK at (602) 930-4900 or via e-mail at info@aask-az.org.