Meet Yahya!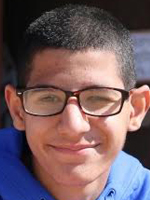 A sweet and affectionate teen, Yahya is eager to creating lasting memories with a family all his own.
Like many boys his age, Yahya likes to stay active and enjoys riding scooters and building with LEGOS. He also has a creative side and enjoys making things out of Playdoh and coloring. Those who know Yahya best say he has one of the most positive souls you'll ever meet. He is extremely enthusiastic about life and dreams of sharing his optimistic outlook with a family. In fact, Yahya says the one thing he would want a forever family to know about him is, "I love everyone."
Yahya isn't picky about the make up of his forever family and places more value on finding one that will be dedicated to one another and full of love. He does say a family dog wouldn't hurt.
For more information about Yahya, please contact AASK at (602) 930-4900 or via e-mail at info@aask-az.org.