Meet Tempe!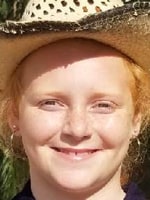 There is no place 11-year-old Temperance would rather be than in the saddle. That explains the big – really big – smile on her face as she trots around the ring at Serenity Stables in Chandler under the watchful gaze of owner Brandy Alix Alaux. Temperance – who goes by the nickname Tempe – loves all animals, but she especially loves horses.
"Being around any type of horse and grooming them, feeding them or riding them is heaven on Earth for Tempe," says youth advocate Crysta Hernandez. The giggling pre-teen says she hopes to turn her passion into a career. "I would like to be a horse trainer," Tempe says. But that's not all. "I would also like to be a marine biologist," she continues. "I would also like to be a model. I would also like to be a singer."
Tempe is proud to be making As and Bs in school. Math and music are her favorite subjects and she is learning to play the viola in school. "Tempe loves to stay active," says Hernandez. "You can always find her riding her bike or her scooter." Tempe would benefit from joining a two-parent family that can provide structure and who have experience with children, Hernandez says. It would be best if she was the only child. "And pets are happily welcomed," she adds.
For more information about Tempe, please contact AASK at (602) 930-4900 or via e-mail at Info@aask-az.org.