Meet David & Alice!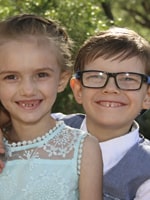 Seven year old Alice and her six year old brother David, enjoy spending time with one another. While they have their typical sibling feuds they will both end up playing a game together. Alice is described as a hard worker, who likes to accomplish things. She is very helpful and will tell you when you are doing things wrong. David is a sweet little boy who will often be found smiling, giggling, playing with cars, playing on his tablet or impersonating animals.
Alice will be in the second grade and David will be in the first grade, next academic school year.
The best fit family for Alice and David is one that has the time, patience and understanding to work with them and help to develop them into the successful young adults that they can be. The children will do best in a two parent home or a one parent home that has the time and support to meet both of their needs. Alice and David will do well being the only children, but can also enjoy other siblings in the home, either older or younger, although supervision with younger children will be needed. The children have not been in a home with exposure to pets, so there may be an adjustment phase. There are no reports of any maltreatment towards animals, just a lack in exposure. Out of state placement is not an option, at this time.
For more information about David & Alice, please contact Brianna Rossi at (602) 930-4601 or via e-mail at BRossi@aask-az.org.