Meet Daniel!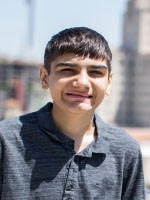 Danny loves to explore and, in the course of a cool December morning, he sees bits of Africa, Australia and the Amazon jungle.
Those bits of faraway lands are in the form of some of the creatures found Wildlife World Zoo, Aquarium and Safari Park in Litchfield Park. The 15-year-old boy beamed at the sight of Thomson's gazelles, warthogs and lions from Africa; kangaroos and wallabies from Australia; tapirs and a coal-black jaguar from the Amazon. He even had a chance to pet Axis deer during the tour lead by Lauren Finnerty, education curator at the complex.
"Danny is very outgoing," says youth advocate Kurtis Espino. "He loves to explore. He loves to talk to people."

Danny has developmental disabilities, but has made great strides over the last year or so thanks to the stability found in his current foster home, Espino says.
The permanency and stability offered by a committed forever family is critical to Danny's development as an independent adult.
"Danny wants to learn to be independent," Espino says. "He wants to be able to learn how to cook. He likes being able to do something to contribute to the household."
An ideal fit for Danny would be a two-parent household in which someone has experience with children with developmental disabilities. "A family that understands developmental disabilities is very important," Espino says.
For more information about Daniel, please contact AASK at (602) 930-4900 or via e-mail at info@aask-az.org.