Meet Lashawna!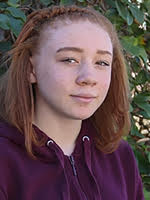 One recent afternoon, 13-year-old Lashawna fussed over by a whole crew of talented people dedicated to making her look her best. Hair stylist Tyra Perry passed the towering teen off to makeup artist Raymond Peeples who then handed her to stylist LaMark Cole. The result was worthy of any high fashion runway. "People were so nice to me," Lashawna says with a smile. "I was very cheerful about it." The experience reinforced her notion of being a cosmetologist when she grows up. "I want to do hair and makeup so that other people can look beautiful," she says.
In the meantime, Lashawna says she wants to play volleyball and tryout for the cheer squad. Lashawna is in the seventh grade and loves school. "I've made a lot of friends and I have a lot of people who help me with work in class," she says. And what would those friends say about Lashawna? "My friends describe me as really funny," the confident teen says, adding, "I'm very smart. I'm nice and I'm funny. I've very brave."
Lashawna says she wants a forever family that includes a mother, father and younger siblings. "I just want someone who would care for me and love for who I am and understand what I've been through," she says.
For more information about Lashawna, please contact AASK at (602) 930-4632 or via e-mail at info@aask-az.org.