Meet Tyree!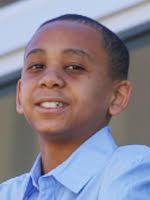 Fifteen-year-old Tyree has a need for speed. "I like going fast," he says. That makes ISM Raceway in Avondale the perfect place to be. The one-mile low-banked tri- oval race track is the home of NASCAR in Arizona. Tyree enjoys a tour of the facility by ISM Raceway President Julie Giese, but it's zipping around the track that is the real thrill. Tyree beams brightly when he gets out of the official pace car driven by Greg Fresquez. "This was my first time in a race car," he says with a big smile. But, as fun is the ride was, Tyree doesn't plan to become a NASCAR driver.
"I want to be a professional basketball player," he says. Tyree is an active, athletic teen with a variety of passions, says child advocate James Patton, who is trying to find a forever family for Tyree. "He is figuring out what he likes right now," Patton says. "One week, it's football. One week, it's basketball." What doesn't change from week to week is Tyree's energy and love of life.
"Tyree lights up when he gets attention," Patton says. Tyree would do best as the only child in a two-parent household. "He does really well with boundaries, with routine, with yes or no answers," Patton says, adding, "Tyree needs a family that could advocate for his needs."
For more information about Tyree, please contact AASK at (602) 930-4900 or via e-mail at info@aask-az.org.