Meet Angel and Juan!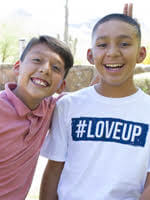 Anthony Clement spent his career protecting quarterbacks as an offensive tackle for the Arizona Cardinals and three other NFL teams. But on a warm spring morning on the practice field outside State Farm Stadium, he is the one throwing passes to Angel and Juan, two football-loving brothers. Also part of the fun and games is Cardinals mascot Big Red. "Big Red and my brother are goofy," says a smiling 13-year-old Angel. "Big Red might be more goofy than my brother."
The games on the field with Big Red and Clement, now part of the Cardinals community relations and alumni organization, are followed by a tour of the stadium guided by Adam Richman, community relations/alumni program coordinator. Angel and Juan, 12, are tight and have much in common. Both brothers love playing basketball and football. Both like school and are on the honor roll. Both like spending time in the kitchen. "I like to make desserts for people, like brownies and banana bread," says Juan. "His brownies are delicious," Angel chimes in.
Angel enjoys watching cooking shows on television and wants to be a cook when he grows up. Juan has different career ambitions. "I want to be a school bus driver," Juan says, adding that he would remember the birthdays of all the children riding his bus. The brothers would do best in an active family that would allow them to continue visits with a younger sister who was recently placed in an adoptive home.
For more information about Angel and Juan, please contact AASK at (602) 930-4900 or via e-mail at info@aask-az.org.