Meet Abigail!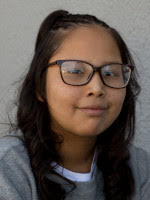 There is nothing thirteen year old Abigail would like more, than a family. She thrives on the comfort, care and attention that a family can provide to her. Abigail does very well with younger children, infant to toddler age and prides herself in assisting and helping other children. She is a great helper and has a very nurturing side to her.
Abigail is in the seventh grade.
The best family dynamic for Abigail is one made up of a single female home or a two parent home. She will benefit from being an only child, or having a home with younger children, infants to toddler age.
For more information about Abigail, please contact Briana Rossi at (602) 930-4601 or via e-mail at BRossi@aask-az.org.