Meet Casey!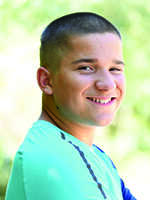 Sky Zone in Scottsdale features a rock climbing wall and a ninja training course, the sort of things that will make a fellow think twice. But they don't scare 14-year-old Casey. After all, he has been on stage for a middle school talent show. And what could be more scary than that? "I'm not afraid to put myself out there," the high school freshman says with a smile. Whether it is singing or sports, Casey is willing to give it a try, says Eric Mengel, group home manager.
"Casey is just open to trying new things," Mengel says. "He wants to see what life is all about." Casey "has a heart of gold. He is honest, open," Mengel says. Casey loves baseball, chess and Spiderman movies – all of them. He also loves his younger sister. The two have monthly visits and it is important that the relationship continue, says Mengel.
Casey also has a mentor through Aid to Adoption of Special Kids and continuing that relationship would also be helpful, Mengel says. Casey says he would like a forever family with mother and a father. And in a perfect world, he adds, they would live in the same school district he lives now so that he could continue going to the same high school.
For more information about Casey, please contact Info at (602) 930-4900 or via e-mail at info@aask-az.org.