Meet Lizzie!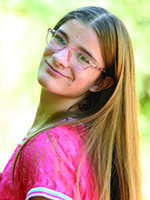 Fifteen-year-old Elizabeth typically has a bounce in her step, but she really springs aboutduring a game of tag on the trampolines at Sky Zone in Scottsdale.The simple game shows that when Elizabeth – also known as Lizzie – does something, she goesall in. She didn't want to just be a regular middle school student, she joined the student counciland dove into planning and preparation for the homecoming dance."I like to be in student council because I want to help everyone in the school," says Lizzie.
Lizzie also likes participating in the Special Olympics, where she won medals in track and field. Lizzie also loves playing soccer, singing in the choir, pop star Justin Bieber and the Grinch as played by Jim Carrey. But, of everything Lizzie loves, what she loves most is her big brother.
"Lizzie adores her older brother," said youth advocate Amie Merritt. The siblings get together monthly and both look forward to the visits. "It's very important that they continue to have that relationship," Merritt says, adding that it would be best if a forever family accommodated the regular connection. Merritt says Lizzie would do well with a single mother or two parents. "She would thrive in a family that is patient and is aware how to care for a child with additional needs or is at least willing to learn," Merritt says.
For more information about Lizzie, please contact Info at (602) 930-4900 or via e-mail at info@aask-az.org.