Meet Gauge!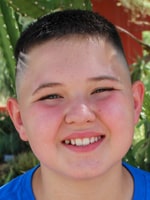 Gauge is a well-spoken thirteen year old that knows what he wants and goes for it. A recent hobby of Gauge's is welding. He is taking a skills class and really enjoys his time in the shop. Gauge also enjoys swimming and playing games. Gauge expressed that when he gets older he would like to be a mechan- ic and serve his country or be an architect. Gauge has been described as talk-a-tive, hardworking, smart, funny, and a great advocate for himself.
Gauge is in the 7th grade and has an Individual Education Plan in place to better meet his academic needs.
Gauge would do well in any family setting. He does well with children of all ages and would be open to having a few siblings. He will do best with a structured and consistent routine. He will also need a strong male figure, but one who does not come off too stern.
For more information about Gauge, please contact Kayla Huner-Waymire at (602) 930-4628 or via e-mail at khuner-waymire@aask-az.org.