Meet Wesson!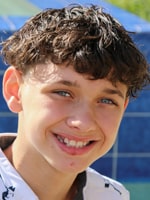 Wesson is an active eleven year old who is up for trying any new adven- ture. He recently tried fishing for the first time and really enjoyed it! His favorite sport to watch on television is basketball. He is not a fan of play- ing basketball, unless it is for fun with his friends. He loves listening to music and has even written a few of his own songs. One of his favorite things to eat is Ramen with sugar in it (he definitely is original)! He has been describes as pleasant, energet- ic, adventurous, polite and fun to be around.
Wesson is in the 6th grade and has an Individual Education Plan in place to better meet his academic needs.
Wesson will do well in any family setting. He will do best as the youngest child and with only a couple of other siblings. He needs an active family that can keep up with his busy and active personality. He will need a strong male figure, but one who does not come off too stern. He will need a good structure and routine in place and for this to stay consistent.
For more information about Wesson, please contact Kayla Huner-Waymire at (602) 930-4628 or via e-mail at khuner-waymire@aask-az.org.