Meet Cristos!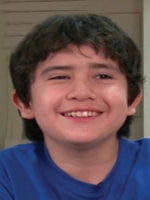 A lot of 11-year-old boys like dinosaurs. Cristos really likes dinosaurs.His favorite book? It's about dinosaurs.His favorite video game? It's about dinosaurs.His favorite television show? It's about dinosaurs.His favorite part of visiting the Arizona Museum of Natural History in Mesa? Painting a dinosaur. Cristos spent one recent morning helping artist Benji Paysnoe paint a life-size dinosaur sculpture that is part of an exhibit opening next year. Standing at the top of a ladder, Cristos painted stripes on the tail of a towering dinosaur as Paysnoe looked on.
It was fun, Cristos says, but he was also "little bit scared and nervous because what if I feel off the ladder and hurt the dinosaur?" The concern for the dinosaur reflects Cristos' "sweet and sensitive" personality, says youth advocate Adam Abbatacola.
Abbatacola says Cristos does well in school, where his favorite subjects are math and science. "He loves to learn and expand on his knowledge," Abbatacola says. Cristos would thrive in a two-parent household with children, Abbatacola says, adding that the boy gets along well with younger children and older children. Ideally, a new forever family would support maintaining Cristos' relationship with his biological sister. The two visit regularly.
For more information about Cristos, please contact Info at (602) 930-4900 or via e-mail at info@aask-az.org.