Meet Valerie!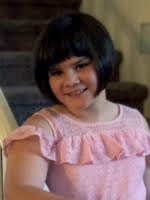 Nine-year-old Valerie is a sweetheart with a loving and open heart. She is active and enjoys playing basketball. Valerie also likes going out to eat and shopping, especially when she can pick out her own clothing. Valerie craves one-on-one attention and appreciates the efforts of those who spend time with her.
Valerie is in the fourth grade and does well in school.
Valerie would thrive in a family with a single female parent or two parents in which she is the only child. Valerie is Hispanic and would prefer joining a Hispanic forever family.
For more information about Valerie, please contact us at (602) 930-4468 or via e-mail at crsinquiry@aask-az.org.