Meet Salina!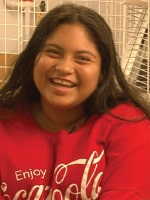 Fourteen-year-old Salina thrives in the classroom."Salina does really well in school and enjoys going to school," says youth advocate Monique Cableka. "It's one of the few places where she feels safe."While Salina now says "seventh grade is boring," she adds that shewould like to spend her adult career in the classroom."I want to be a teacher because I want to teach kindergartners their ABCs and stuff," Salina says.
And it doesn't take long for Salina to go from student to teacher as she nudges art instructor Antoinette Cauley from an art studio at the Phoenix Center for the Arts to a dance studio. There, Salina is the instructor, teaching a small group of adults some of the latest dance moves. Salina likes to find new dance moves by searching for music videos on YouTube. The video website is also her favorite source for music to listen to. Salina loves Disney movies and playing team sports.
"I like playing soccer, volleyball and basketball," she says. And before the game – or when the game is over – Salina likes to eat bacon and eggs, and hot wings. Salina gets along well with other children and would thrive in a forever family in which she is the youngest child, says Cableka. "Salina would do well in a one or two parent household that has experience with children with special needs," Cableka says.
For more information about Salina, please contact Info at (602) 930-4632 or via e-mail at info@aask-az.org.