Meet Salina!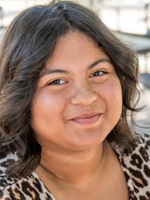 Salina is a bubbly teen with big dreams and aspirations. What she wants most is a family to call her own.
Like many teens, Salina likes to hang out with her friends playing basketball or going to their local Peter Piper Pizza. She also likes to listen to music (she says her favorite artist is Drake) and loves hot wings, Warheads candy, and eggs and bacon. Salina is a natural born leader and has a passion for teaching others. She says she might want to become a teacher when she is older and enjoys helping others learn.
"Salina says if she had three wishes she would want unlimited coffee, a million dollars, and the ability to be a great singer. Salina is looking for a supportive family that will help her become the successful woman she is meant to be. She is open to different family types and hopes to maybe go to Disneyland or Disneyworld with a family all her own.
For more information about Salina, please contact Info at (602) 930-4900 or via e-mail at info@aask-az.org.