Meet Rose!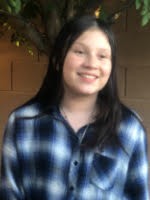 Meet Rose! Smart and self-assured, 12-year-old Rose is willing and able to advocate for herself. But she still needs the love and support of a forever family.


The seventh-grader thrives academically and outside the classroom she enjoys swimming, drawing and writing music. She has a fondness for spicy foods, strawberry Frappuccinos – and lizards.


Rose would thrive in a family headed by an energetic, fun-loving single mother where she would have little sisters. Rose is mixed-race and prefers a mixed-race family.

Rose will bring unconditional love to a family and a family setting will allow her to thrive and blossom and grow.
For more information about Rose, please contact Brianna Rossi at (602) 930-4601 or via e-mail at BRossi@aask-az.org.