Meet Dwaun!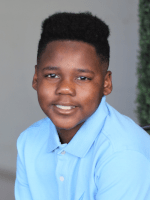 Twelve-year-old Dwaun is a dog person.

The active boy would love to join a forever family with pets – especially if that pet was a dachshund or a pug.

Dwaun enjoys sports – football and basketball are his favorites. He also likes to play video games and one of his favorite games is Madden 20, a game that simulate professional football games.
His favorite foods include pizza, quesadillas, tamales, ramen noodles and Oreo cookies.

Dwaun enjoys hanging out with friends in school where he is in the seventh grade. His favorite class is social studies.
Dwaun longs for a positive male role model and would do best in a family in which the parents are experienced and able to meet Dwaun's needs for academic enrichment and behavior coaching.
For more information about Dwaun, please contact Brianna Rossi at (602) 930-4601 or via e-mail at BRossi@aask-az.org.