Meet Gabe!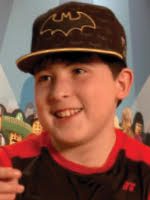 You can build anything out of LEGO bricks – cars and castles, dinosaurs and Death Stars, skyscrapers and every passenger on Noah's Ark.

So, what did Gabriel build when he had a chance to work with Alec Posta, the master model builder at LEGOLAND Discovery Center Arizona in Tempe? He built a family – a mom, a dad, a brother, a sister, a friend and a LEGO Gabriel sitting around a dining room table. Oh, and Batman was there having dinner, too.

"Alec helped me build something I've never built," says Gabriel.

Gabriel loves LEGOs.

"Gabriel is a very creative 12-year-old boy," says youth advocate Monique Cableka. "He loves to play with LEGOs. He loves to run with his imagination and see where it leads."


Sometimes it leads to building things out of wood, other times it leads to drawing storyboards for newly-imagined video games.

Gabriel also likes playing sports.

"I used to play baseball," he says, "and now I want to play tackle football."


Gabriel says he would like to be part of a forever family that includes two parents, a brother and a sister.

"Gabriel would do best in a home with older siblings," Cableka says, adding that he would benefit from having positive role models in the house.

Gabriel says he wants to be part of an active, on-the-go family.

"I would like a family that would go fishing with me," he says.
For more information about Gabe, please contact AASK at (602) 930-4900 or via e-mail at info@aask-az.org.