Meet Gabe!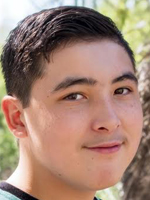 An active and energetic young man, Gabriel is always on the go! He says some of his favorite things to do are playing basketball, zombie-tag with his friends, and video games.
When it's time to refuel, Gabriel likes to eat tacos and burritos and is always open to trying new Mexican restaurants. Gabriel says he would like to work at GameStop when he is older and dreams of watching a Dodgers game in person.
The teen would do best with a one or two parent home that will give him unconditional love and support. He is not picky about his forever family and is looking forward to creating a lifetime of memories with a family all his own.
For more information about Gabe, please contact AASK at (602) 930-4900 or via e-mail at info@aask-az.org.