Meet Vanessa & Reyes!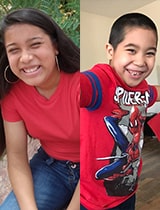 "They're a close pair of siblings who will bring a lot of energy to a family." Reyes and Vanessa's child specific adoption recruiter says. The pair is looking for a home together that will give them the time and space to continue to grow and develop into the compassionate and creative people they are.

Sixteen-year-old Vanessa is a great big sister to her little brother and would do great with other younger children in the home. Best described as compassionate, Vanessa enjoys serving others and would like to take advantage of volunteer opportunities in her community.
Her seven-year-old brother, Reyes is very curious and likes to climb every piece of equipment on the playground. "Everything is a new adventure for him." His recruiter says. Reyes currently gets services through the Division of Developmental Disabilities which will continue into adulthood. He will also need some level of supervision into his adult years.
deally, Vanessa and Reyes would like a young and active family with one parent who is either a stay-at-home parent or who works from home permanently. A multi-generational home where a grandparent is at home full-time would also be a good fit. After adoption, Vanessa and Reyes would like to stay in touch with their other two biological siblings.
For more information about Vanessa & Reyes, please contact us at (602) 930-4466 or via e-mail at csrinquiry@aask-az.org.