Meet Keegan!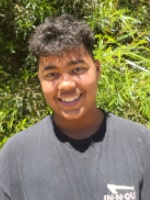 Keegan is a 14 year old biracial African-American/Caucasian male, who loves to play all sports and especially football. Keegan does well in school with a smaller class size and is a positive leader at school, but he admits that he makes poor choices and misbehaves at times.
The best fit family for Keegan will be a two parent home (Keegan prefers a mom & a dad home) with one of the parents having the time and ability to provide a strong structure and routine. Keegan will benefit greatly from a strong male role model with a lot of attention from the father. Keegan will also benefit from nurturing, loving attention from both parents. Keegan will do well as an only child or with older children in the home. Keegan likes younger kids and enjoys being a big brother, however Keegan doesn't understand how big and strong he is so he accidentally plays too rough sometimes. The home will also need to provide structure and a lot of activity and sports for Keegan to be involved with and enjoy, probably mostly outdoor activities and games.
Keegan loves animals and would like to have dogs in the home and he may be allergic to cat dander. Keegan likes 80s & 90s hip hop music and all gospel music. It will be beneficial if the family likes going to church. Keegan likes to fix and build things and is a hard worker, especially with electronics. He likes construction, building things, exercising, running, and building his muscles and strength. Keegan is very focused on football and hopes to have a football career. Keegan collects football cards and hot wheels cars for fun.
For more information about Keegan, please contact AASK at (602) 930-4900 or via e-mail at info@aask-az.org.