Meet Cerue!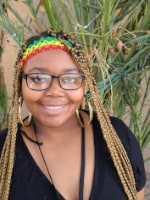 Cerue is a typical outgoing and fun loving 16 year old teenage girl. Cerue is very athletic and likes to play football, hike, and shop, not necessarily in that order. Cerue is a polite young lady who likes to socialize with friends as well as taking school very seriously. Cerue does well in school academically as well as behaviorally. Cerue is a very good self-advocate and is able to articulate what she wants well.
Cerue has no strong opinion on what type of home she wants to live in and says she will be content in any family dynamic that is willing to be her forever home. She likes the nice area and style of home she lives in with her current group home, but as long as a home is safe and clean, she will be happy. Cerue is very connected to her high school and the sports and friends she has there, so we hope to keep Cerue in the slightly northwest Phoenix area to continue those contacts. Cerue has a brother she would like to have contact with. Cerue likes animals and is good with either older or younger siblings.
Cerue would like to have someone who can braid her hair in the styles she likes or has people who can do that or teach that. Cerue is very well kept in appearance and likes to look good and do fun, active things in the outdoors. Cerue likes In & Out Burger and Panda Express food as well as desserts and ice cream. Cerue is a wonderful young lady who just wants to have a forever family she can love and be loved by.
For more information about Cerue, please contact us at (602) 930-4466 or via e-mail at csrinquiry@aask-az.org.