Meet Miracle & William!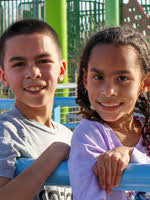 Miracle and William are full of energy and life. Miracle, is the leader of the pack with her super social personality. Miracle likes to make friends, is competitive with her siblings and prefers to be active outside. Miracle wants to tell you all about herself and what she enjoys; arts and crafts, jumping rope, playing with toys, dancing, volleyball and swimming to name a few. William, is kind hearted and loving. He excels in drawing, math, science, video games, basketball, swimming, Legos, reading and superhero's. He is very close to his older brother. The children have a close relationship and want to be adopted together.
The siblings say that adoption means, "Someone who will take care of you… It's when you move to someone's house forever." The siblings are very interested in adoption and hope to find that forever family. The siblings would like a family that will honor their existing relationships. They would love to have their own room, parents who will focus on them and maybe a family pet.
Miracle was born in 2013. William was born in 2012.
For more information about Miracle & William, please contact us at (602) 930-4466 or via e-mail at csrinquiry@aask-az.org.