Meet Alex & Sean!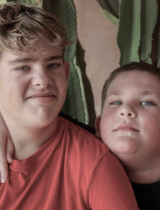 Brothers Alex and Sean are excited for a future together with their forever family. The teens are close in age – Alex is 15 and Sean is 13 – and share many similar interests. Both boys love to stay active and play football and basketball, riding bikes, and playing video games. They say their perfect forever family would be active and willing to try new things with them.
When the boys aren't spending time together, they are dreaming big for their futures. Alex hopes to have a career working with computers or electronics, and Sean would like to become an officer in the US Marines or work for the FBI, CIA, or Swat-Team. In addition to being passionate about sports and video games, Alex loves to watch action movies and listen to Hip Hop and Rap music. Sean is fascinated by The Titanic, likes going to the gym and weight lifting, and magic tricks.
Alex and Sean would do best in a two parent home that is trauma informed. They want a family that is structured and respectful of one another and is enthusiastic about their futures together. Sean would like a family that is Christian and Alex hopes to have more siblings close to his age.
For more information about Alex & Sean, please contact AASK at (602) 930-4900 or via e-mail at info@aask-az.org.