Meet Tommy!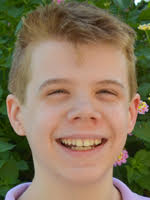 Thomas is a 13-year-old boy who goes by, "Tommy". Tommy enjoys spending time outside and being active. He enjoys playing at the nearby park, playing with his squeeze toys, blowing bubbles and going to the trampoline park. The activity he enjoys the most is swimming or playing in water. Tommy really enjoys playing on his IPad. He will watch videos, play games, and listen to music. When the music starts playing you will find him dancing to the beat! Tommy also enjoys going out for ice cream! Tommy is a fun, active child with a lot of potential to do well and is very smart.
Tommy will be going into the 8th grade and as an IEP in place to assist with his academics. Tommy really enjoys going to school and connects well with his teachers. Tommy is DDD and ALTCS eligible.
The best fit family for Tommy would be a two parent home that has experience working with the special needs population. Tommy may also do well with a single parent as long as they have a good support system. Tommy will do well as the only child or with children of any age (no more than 2 other children). Tommy will need a family to love and support him into adulthood.
For more information about Tommy, please contact us at (602) 930-4466 or via e-mail at csrinquiry@aask-az.org.