Meet Damascus!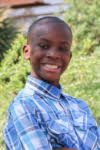 Damascus is a fantastic 10 (almost 11) year old boy with a curious mind and a wonderful heart. Damascus is looking for a home with a mom & a dad and kids close to his own age or older than Damascus. Damascus would really like to have his own room, but is ok with sharing with a new brother if needed. Damascus likes traveling and would like an active family who likes camping, fishing, hiking and other outdoor activities. Damascus loves animals, but likes dogs the most.
Damascus had a great mentor named Dennis whom he used to see weekly that got Damascus excited about rockets, computers, math and science. Math and Science are now Damascus' favorite subjects in school. Damascus loves to sing, dance, and go to church. He is very curious and asks a lot of questions about how things work and how to afford and buy things. He also really enjoys making things and helping people. The right home for Damascus will have a lot of structure and routine as well as patience and willingness to answer Damascus' questions about how everything is made and works. Damascus likes to know "what's coming next" so a schedule is also important. Damascus is organized and clean and does very well with chores and helping around the house.
Damascus really wants a nurturing, loving mom who can spend the time building that close relationship with Damascus. Damascus also hopes for a dad who will be involved and very active with Damascus outdoors and at sports like basketball, football, baseball, and soccer. It will be beneficial for Damascus to have a stay at home parent or at least one parent who has a schedule that aligns with his school days and hours so Damascus has a parent involved with him a lot.
For more information about Damascus, please contact us at (602) 930-4466 or via e-mail at csrinquiry@aask-az.org.