Meet Abigail!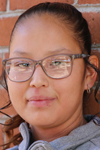 Fifteen-year-old Abigail wants to be a big sister. Abigail is helpful and nurturing, says Brianna, a child-specific adoption recruiter with Aid to Adoption of Special Kids. "She does amazing with younger children," Brianna says. "She really likes to help out with younger kids." Helping younger children has a payoff, Abigail says. "I like younger kids because they make me laugh." Abigail loves to laugh and she likes making things. And, given the chance, she likes to make things for other people.
After making a necklace at KP Studio, a Phoenix metalsmith studio offering jewelry classes, owner Michelle Moyer asks Abigail if she wants to make something else. She does – a bracelet for another girl in the group home. "I like to make stuff," the 13-year-old says, adding that she once made a pair of shoes out of cardboard. "I like to color Disney characters," Abigail says. She particularly likes "Lilo and Stitch," which tells the story of an orphaned girl and a blue extraterrestrial critter. Abigail says she relates to Lilo's sense of loss after the death of her parents and how she finds a friend in Stich.
Abigail would like to join a forever family with two parents, pets and younger children. While Abigail would do well with younger siblings, she would also thrive as an only child, Brianna says. What the seventh-grader needs, Brianna says, is to be loved and to know she is loved. "If someone loved her and she knew that – it would be a game-changer for her."
For more information about Abigail, please contact AASK at (602) 930-4466 or via e-mail at csrinquiry@aask-az.org.