Meet Owen!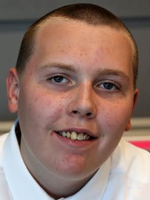 Owen is your typical teenage boy. He loves to play video games and dreams of becoming a professional gamer on YouTube. When Owen isn't pursuing his career goals, you can find him outside riding his bike or taking part in NERF gun battles. Owen loves to do anything fun that keeps him – and his brain – moving.
Owen describes his perfect day as playing lots of video games, eating juicy cherry tomatoes, and visiting his favorite restaurant, the Rainforest Café! Sprinkle in some scary movies, a few episodes of The Walking Dead, and listening to Metallica to make it the best day ever.
Owen is looking for either a one or two parent home that can provide structure and routine. He says that he is looking forward to being adopted because he is tired of moving and wants a place and space to call his own. Owen would do best as an only child in his forever family.
For more information about Owen, please contact AASK at (602) 930-4900 or via e-mail at info@aask-az.org.