Meet Gabriel!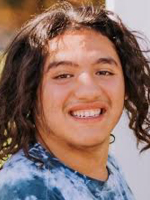 By nature, Gabriel is cool, calm, and collected. He has a hard time saying what he likes best about himself, but it's apparent the fifteen-year-old is kind-hearted and easy to get along with.

Like many teens, Gabriel loves to stay active and play sports. His favorite is football and his favorite team is – of course – the Arizona Cardinals. Although he doesn't play for his school, he likes to get together with his friends and toss the ball around.
During the hot summer months you can find Gabriel in the pool. Like football, swimming isn't a competitive activity, but a way to bond and build memories with friends.

Gabriel's child specific adoption recruiter says Gabriel is a sweet and compassionate person who is looking for a family that will embrace and nurture his kind spirit.
Gabriel isn't too picky about what his forever family should look like. Although he would prefer to be an only child, he does get along with other kids. He would prefer a mom and a dad, but wants an active, outgoing family above all else.
For more information about Gabriel, please contact AASK at (602) 930-4900 or via e-mail at info@aask-az.org.