Meet Worthy, Yalia, Eliav!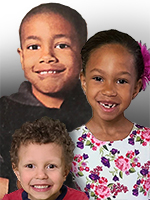 These wonderful siblings are very close with each other and are needing to be adopted together. Worthy is an energetic 8 year old boy who loves his sister and brother as much as he loves sports and playing outdoors. Worthy likes football and soccer and anything he can do or play outsides. He also has a calmer, inside life with a few favorite video games and TV shows. Worthy is overall outgoing and friendly, but he also enjoys time to himself and just relaxing at times. Worthy is going into the second grade this year and looks forward to seeing his friends and classmates. Worthy is outgoing and playful. He is curious and likes to understand why things are done or are made a certain way.
Yalia is a 6 year old playful little "princess" as her photo shows, but she has a "tom boy" side as shown by how she wants to be included in all the outside activities her brothers like too. Yalia is very outgoing and makes friends wherever she goes. Yalia likes a few video games and TV shows, but likes to play with her dolls, clean her room, and sitting with her foster family and just talking about her day. Yalia is starting first grade this year and loves school and all her classmates.

Eliav is an adorable little 5 year old boy full of exciting things to tell anyone who will listen. Eliav hasn't found his "favorite" things to do yet and just likes to try anything offered. He is active and playful and gets along great with his brother and sister as well as the other children in his foster home and the neighborhood. He likes to play games on his tablet, but outdoors is his favorite place to be.
These precious siblings are looking for a loving family who has the time to play and keep them busy. They all love having other children around to play with. The ideal home will have two parents and someone with the time to spend quality and quantity of time engaging the children in play and activities. As well as living in an area with either plenty of other children or from a big family with younger cousins who sees each other regularly.
For more information about Worthy, Yalia, Eliav, please contact AASK at (602) 930-4466 or via e-mail at csrinquiry@aask-az.org.