Meet Skylar!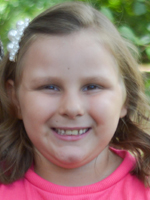 Nine year old Skylar is a Caucasian female with brown eyes, dirty-blonde hair and an infectious smile. Skylar is a very sweet and loving young girl who enjoys arts and crafts. Her current interests include horses, the television show "Super Girl," girl scouts, making bracelets, arts and crafts and LEGOS. Skylar's foster mother describes her as a "sweet care- taker kind of person, who shows affection through hugs and "I love you's." She is very loving and concerned about other people's emotions and easily makes friends. Skylar is very active and displays excitement about the little things that life has to offer, such as going outside and finding new trees to climb in.
Skylar is in the third grade and enjoys school.
The best fit family for Skylar is a two parent family of a mother and father or two mothers. Skylar will do well with older children and a family who is very active. She is comfortable with pets and a will do best in a home where she can run and be playfully free outdoors.
For more information about Skylar, please contact us at (602) 930-4466 or via e-mail at csrinquiry@aask-az.org.