Meet Freddy!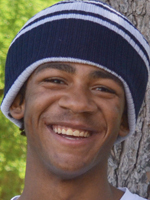 Frederick, AKA "Freddy" is a 16 year old who is very mature for his age and does great about expressing his needs and wants. He likes to play sports (basketball, football and track), but is not currently part of a team. When not in school you will find Freddy doing a lot of normal teen activities. Like most teens, he likes to be on social media and talking to his friends. One really cool thing about Freddy is that he is really into meditation. He finds it very calming and he feels it bring him closer to God. He uses meditation to better himself and to work on his anxieties. He can be described as very caring, compassionate, friendly, funny and loyal!
Freddy is in high school and working towards his graduating. He does not particularly like school, but he is very intelligent and does well.
Freddy would do well in any family setting. He is open to siblings, but not too many. He will need a structured family and someone who can help him become a successful adult and be there for him even after he turns 18.
For more information about Freddy, please contact us at (602) 930-4466 or via e-mail at csrinquiry@aask-az.org.