Meet Nathan, Gilberto and Daisy!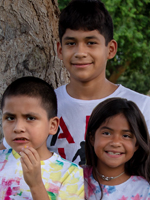 Nathan, Gilberto and Daisy are great kids looking for a loving home. Daisy, is an active and happy child who likes to talk, is curious about her world and is sensitive. Daisy enjoys games, sports, school, trying new foods, riding her bike, arts and technology activities. Gilberto is the middle child. Gilberto expresses joy and likes to be active outside, eating new foods and hands on experiences. Nathan, is introverted, caring, a true older big brother and protector. Nathan enjoys athletics, riding bikes, trying new foods, video games, drawing, animals and socializing with friends.
The children enjoy spending time with each other most weekends and need a family that will keep them together as well as honor the current connection they have with their grandmother. Gilberto will do best in a family with at least one parent who can provide relational and developmental support.
The ideal family for Nathan, Gilberto and Daisy will honor their birth family connections and is a two parent home eager to provide love, structure, consistency and unconditional commitment.
For more information about Nathan, Gilberto and Daisy, please contact us at (602) 930-4466 or via e-mail at csrinquiry@aask-az.org.