Meet Cristos!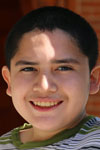 Cristos is a very active and friendly child, who finds excitement and interest in playing outside, playing with LEGOs, riding his bike, playing basketball, going out to eat and spending time with his friends. When Cristos grows up, he would like to be a scientist and conduct "science experiments." Cristos is a selfless child who does well with sharing and building friendships.
Cristos is in the seventh grade and enjoys learning about science.
The best fit home for Cristos would be one made up of a one or two parent home that has patience, understanding and unconditional love to give. He will do well with other children in the home, as he thrives in the relationship he has with other children. Cristos will do well with pets and will bring love, energy and excitement to any family.
For more information about Cristos, please contact us at (602) 930-4466 or via e-mail at csrinquiry@aask-az.org.