Meet Karen!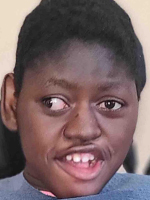 Meet Karen, a sweet girl looking for her forever home! Karen seems to enjoy the sounds colors and actions of cartoons and colorful movies the most. Karen also enjoys music and looking at trees and birds outside the windows. She loves being around other children and being spoken to. She is extremely responsive to touch and sounds and enjoys her arm being stroked and her hand being held, just not her face being touched.
Karen is in 7th grade in a self-contained classroom. She has a current IEP in place.
Karen receives DDD services and is ALTCS eligible. Karen is diagnosed with Aicardi Syndrome and is non-verbal and non-ambulatory. She will need long term care and a family willing to meet her medical and emotional needs. She needs a loving family willing to spend quality time with her and to provide her with the best life possible.
For more information about Karen, please contact us at (602) 930-4466 or via e-mail at csrinquiry@aask-az.org.