Meet Tyson!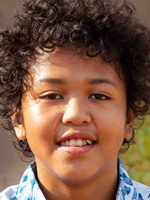 Tyson is curious and energetic young man, he is smart, funny, and open to learning about the world around him. After he has had an opportunity to get comfortable with others, Tyson enjoys a good hug and having conversation. Tyson is learning to be more independent, loves trying new things and enjoys attending school.
During free time Tyson enjoys playing video games, playing outside, eating his favorite foods, building Legos, drawing and painting. He is skilled at origami and likes to create various paper animals. Tyson understands and is eager to have and adoptive family that will love him, no matter what.
Tyson will do best in a structured one or two parent family with at least one parent who can provide relational and developmental support. Tyson would enjoy having a family pet and siblings similar in age. That ideal family for Tyson will honor his birth family connections and culture while providing love, consistency and unconditional commitment,
For more information about Tyson, please contact us at (602) 930-4466 or via e-mail at csrinquiry@aask-az.org.