Meet Dwaun!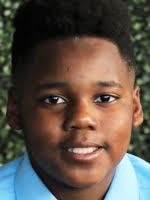 Fourteen-year-old, Dwaun is a dog person. The active boy would love to join a forever family with pets – especially if that pet was a dachshund, golden retriever or a pug. Dwaun enjoys sports – football and basketball are his favorites. He also likes to play video games, some of his favorite games are Madden 20, Mindcraft, Roblex and Fifa, a game that simulate professional football games. His favorite foods include pizza, quesadillas, tamales, ramen noodles, shrimp, prime ribs and Oreo cookies.
Dwaun enjoys movies and television shows, his favorite movie is "Sonic The Hedgehog and his favorite shows are "Raven' s Home" and "Veggie Tales"- he likes the cucumber character, the best. Dwaun enjoys hanging out with friends in school where he is in the eighth grade. He has a few favorite classes such as social studies, English Language Arts, Science, I- Explore (a computer class) and Physical Education.
Dwaun longs for a positive male role model and Dwaun states he would like a mother figure who will "spoil and care about him." He also says that he wants a mother who he can, "cook with and just have fun with." The best fit for Dwaun is a family in which the parents are experienced and able to meet Dwaun's needs for academic enrichment and behavior coaching. "Dwaun will do well with other children in the home and says the he likes, "big kids, who aren't too hyper, but even if they are too hyper as long as we have a lot in common it would be alright."
For more information about Dwaun, please contact us at (602) 930-4466 or via e-mail at csrinquiry@aask-az.org.